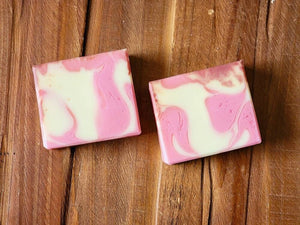 This listing is for our "OOPSIE!" soaps. These are soaps that did not turn out the way they were planned. Luckily for you, these are great bars of soap, they just aren't as envisioned. There are brown swirls within the bars of soap due to the fragrance oil used to achieve the "Pink Bubblegum" scent. The fragrance contains a lot of vanillin, which gives the fragrance its vanilla notes. Unfortunately in cold process soap, this turns the soap brown over time. We used vanilla-color stabilizer to hopefully negate this, which it did for a short while, but the brown fought its way past the stabilizer, and thus we have "Brown Bubblegum" soap. 😅
⭐Since vanilla discoloration happens slowly over time, it's possible that these bars will end up being 100% brown when you receive them, so please take that into account before purchasing these OOPSIEs.

*These bars will come in a plain soap box with no label.
------------------------------

FRAGRANCE:
A nostalgic, childhood favorite - notes of pink bubblegum, berries, a hint of champagne, and vanilla-sugary goodness.
ABOUT:
Every small soap batch is created at our studio in east Idaho. Each bar is handmade, hand-wrapped, hand-labeled, and hand-inspected before being shipped to you! We take great pride in crafting and producing our artisan bars without the use of machinery.
Weight is approximately 4 oz. Actual weight may vary slightly. Handmade in the U.S.A. This listing is for 1 bar.To Store:
Keep your soaps in a dry, ventilated area on a well-draining soap dish when not in use. Your soaps will last much longer this way!
------------------------------
INGREDIENT LIST:SAPONIFIED OILS OF Olive, Coconut, Shea butter, Avocado, Rice bran, Sweet almond, and Castor, Almond milk, Fragrance, Sodium lactate, Skin-safe colorant, Kaolin clay
*If you have allergies or skin sensitivities, please read the ingredient list carefully and choose your soap accordingly. 
*This product is made in a studio where variations of the following allergens have been used: almonds/tree nuts, oats and other grains that contain gluten, milk, and other potential uncommon allergens. Cross-contamination is possible. If you have severe allergic reactions to any of these ingredients or any other ingredient that may be used in soaps or other body products, please do not use our products or do so only at your own risk. If you are unsure if we use an ingredient you are allergic to, please contact us. We always recommend spot-testing all products on a small patch of skin before full use.
**For best results, keep your soaps in a well-draining soap dish in a dry, ventilated area when not in use. For external use only.